#1 – Trap Jesus ⁠— Speeding Up Your Workflow, Reframing Your Focus, and the Importance of Showing Up
2 years ago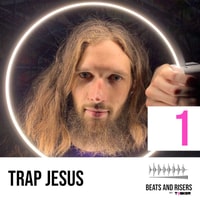 "Show up because it's what you do, not because of what you might get out of it." ⁠— Trap Jesus
Trap Jesus (@whatwouldtrapjesusdo) is a producer, engineer, songwriter and DJ involved with iStandard and BounceGvng. He's also a sensei and mentor at Producer Dojo, and along with being the Dojo's resident Reason expert, he's curated several cyphers and recently guest-presented one of The Weekly Downloads (#148) on industry etiquette.
As Trap Jesus, he's preaching Psychedelic Psalms from the Backwoods Bible through the Grimy Gospel EP in collaboration with Sam Shoemaker. As Luke Rain, he's swinging big katanas and dropping heavy bass across electronic genres. You can hear his track "Katanas" on ill.Gates Presents: The Class of 808, Volume 3.
In our conversation, we talk about speeding up your production workflow with timers, the necessity of reframing your focus as a producer, how industry events have been a game-changer for his life and career, and much more.
---
Selected Links
Full disclosure: This list includes some affiliate links. If you purchase something through those links, you won't pay anything extra, but I'll get a small commission or discount which helps me make music and keep this podcast going. Thank you for supporting me and Beats and Risers!
Music Referenced
---
Subscribe
Show Notes
On music being a part of his life at an early age [2:03]
How Trap Jesus started producing music by chance [3:26]
Trap Jesus explains how Luke Rain became his artist name [4:41]
In looking for a change of pace, Trap Jesus discovers iStandard events, and explains how they helped him renew his focus on production [6:15]
The interaction that sparked the Trap Jesus name, and what happened before he adopted the moniker [7:39]
What happened when Trap Jesus played beats that were well received, but weren't trap? [9:54]
How both names became part of Trap Jesus's artist identity [11:11]
After feeling stuck one night, Trap Jesus finds out about Producer Dojo and elaborates on how the Dojo changed his life [13:28]
What are the Producer Dojo Cyphers and how do they operate? [16:45]
On curating the Off the Grid [20:28] and Timer Beats Only [21:42] Cyphers
How to work faster through timer beats [20:52]
Does the perfect snare exist? [23:34]
Why is it important to set reasonable expectations as a producer? [25:54]
Trap Jesus explains how he starts his composition process with timer beats [27:25]
How does Trap Jesus make a beat in 30 minutes? [30:39]
Feeling stuck when you make a beat? Here's why Trap Jesus suggests taking a break and focusing on the business side of your music [35:34]
Trap Jesus breaks down how he made "Spell My Name" for the Producer Dojo Cypher #8: Say My Name [37:06]
Imagine a pottery class. Would the class graded on quality or the class graded on quantity have the better pots by the end of the class? [42:29]
On the importance of showing up, setting perfectionism aside, and making music no matter what [44:49]
Why leaving your hometown for music industry events and networking can be a career game-changer [45:47]
How should you think about networking in music? (Hint: it's not about business cards.) [49:17]
Trap Jesus explains how and why he started producing in Reason [64:12]
Trap Jesus's message for listeners: Believe in yourself and follow your joy [74:04]
The 808
What book has had the most impact on Trap Jesus' production or creativity? [51:08]
If Trap Jesus had to give a TED Talk on anything, but it couldn't be about music, what would it be about? (TVSKER's note: Luke's answer here is super important not just for producers, but in anyone's life.) [54:22]
What is Trap Jesus's favourite key and tempo to produce in? [59:54]
If Trap Jesus could collaborate with any artist, who would he collab with? [60:46]
The two VST instruments and three VST effects Trap Jesus would choose to make a track from. [61:31]
How does Trap Jesus know whether a song needs to be finished or whether it's time to throw in the towel? [67:51]
In the past six months, what has Trap Jesus purchased for $100 or less that has had the greatest impact on his music production? [70:36]
What would Trap Jesus tell himself if he could go back in time and speak to himself while he was in his first six months of producing music? [72:01]
---
People Mentioned
Find out more at http://beatsandrisers.com