#2 – 6TH STREET — Creating Music with Emotion, Finding the Sparks, and Building Community on Twitch
2 years ago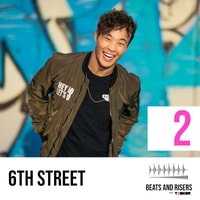 "If you're internally happy with your music, then the purpose is already complete and you're already a successful artist." ⁠— 6TH STREET
6TH STREET (@6THSTREETmusic) is a music producer, DJ, choreographer, dancer, and Producer Dojo mentor and sensei. His EP, Neon District, came out in April 2019 on the Producer Dojo label, and hit #1 on the Beatport Trap/Future Bass chart, #2 on the Dubstep Chart, and went top 10 in Electronica and Downtempo. Each of those genres are landmarks in the Neon District, and the EP takes you on a musical journey through emotions and melodies.
6TH STREET has also collaborated with fellow Dojo sensei Daniel Simmons on "Back in Love", a single released in August 2019, which will have remixes released soon. He also streams music roasts and feedback on Twitch twice a week.
In our conversation, we talk about creating music that evokes an emotional response, finding the elements that spark the making of a full track, building an online community through Twitch livestreaming, and much more.
---
Selected Links
Full disclosure: This list includes some affiliate links. If you purchase something through those links, you won't pay anything extra, but I'll get a small commission or discount which helps me make music and keep this podcast going. Thank you for supporting me and Beats and Risers!
Music Referenced
Episode Notes
6TH STREET reflects on a decade of living in Los Angeles and the beginning of his path shifting toward music [2:05]
How Neon District and the theme of place fits into the vibe of 6TH STREET [3:40]
6TH STREET explains how the Neon District EP came together [4:53]
What sparked 6TH STREET's love of music? [5:49]
6TH STREET looks back at how he started producing music [7:03]
On getting involved with Producer Dojo, from finding the Facebook group to joining the Class of 808 [7:58]
On the experience of becoming a Producer Dojo sensei [10:16]
The #1 piece of advice 6TH STREET has for producers working with vocals [11:12]
The three artists that most inspire 6TH STREET [12:02]
How 6TH STREET's background in dance helps influence the groove of his music productions [12:57]
When 6TH STREET starts a new track, what's the first thing he does? [15:24]
Once the main idea is down, what comes next? [17:04]
The two strategies 6TH STREET uses to overcome writer's block [18:25]
How a time constraint of 3 days resulted in 6TH STREET writing one of his favourite songs he's written [19:45]
6TH STREET's tip for newer producers to help them understand what makes a song a song [22:23]
The best investment 6TH STREET has made in his music career [24:22]
Why music is a community career built on relationships, and what to be mindful of [25:33]
On DJing, and finding the bridge to performing your own productions in front of a live audience [26:24]
How a nearly-lost years-old loop inspired 6TH STREET to write an emotional, nostalgic song [28:53]
On the organized chaos of projects - sometimes it works, sometimes it doesn't [32:42]
How music production provided 6TH STREET with an outlet to deal with, and heal from, a tough breakup [35:24]
6TH STREET explains how he got started with streaming on Twitch, and how the community has grown over time [37:59]
How Twitch creates a deeper connection than other social media [41:57]
A final piece of advice 6TH STREET has for producers [55:09]
The 808
What book has had the most impact on 6TH STREET's production or creativity? [43:11]
If 6TH STREET had to give a TED Talk on anything, but it couldn't be about music, what would it be about? [45:10]
What is 6TH STREET's favourite key and tempo to produce in? [47:11]
If 6TH STREET could collaborate with any artist, who would he collab with? [47:45]
The two VST instruments and three VST effects 6TH STREET would choose to make a track from. [48:20]
How does 6TH STREET know whether a song needs to be finished or whether it's time to throw in the towel? [49:22]
In the past six months, what has 6TH STREET purchased for $100 or less that has had the greatest impact on his music production? [51:40]
What would 6TH STREET tell himself if he could go back in time and speak to himself while he was in his first six months of producing music? [53:01]
People Mentioned
Find out more at http://beatsandrisers.com